Searching for a wedding dress that is right for you can be an intimidating experience, thankfully – we are here to help you narrow it down. Aldo Terlato is one of the top made-to-measure bridal designers in Melbourne. Working with celebrities and seen at red carpet events on a regular basis, Terlato knows how to make you feel like a star. Terlato provides brides with uncompromised couture craftsmanship and being a third-generation couturier, you know you're in the best hands. Being at the forefront of the industry and knowing what women want and need – Aldo recently launched his luxury bespoke shoe label, G Terlato. Read on to find out why Aldo Terlato should be on every upcoming bride's radar.
Tell me all about yourself, how long have you been in this business?
I have been designing couture for 30 years. So I was very young when I started (I must say that when people hear 30 years). I did a degree in design and my mum and grandmother are both couturiers so it's in our family history, the third generation.
Tell me about what you offer brides for their wedding day?
We offer them an exclusive service where they pop in and we consult with the bride, discuss her requirements, learn all about her wedding so we have a good feel all about the type of gown she requires. Obviously, we design something to suit their figure shape and to complement her figure. We're more of a personalised service.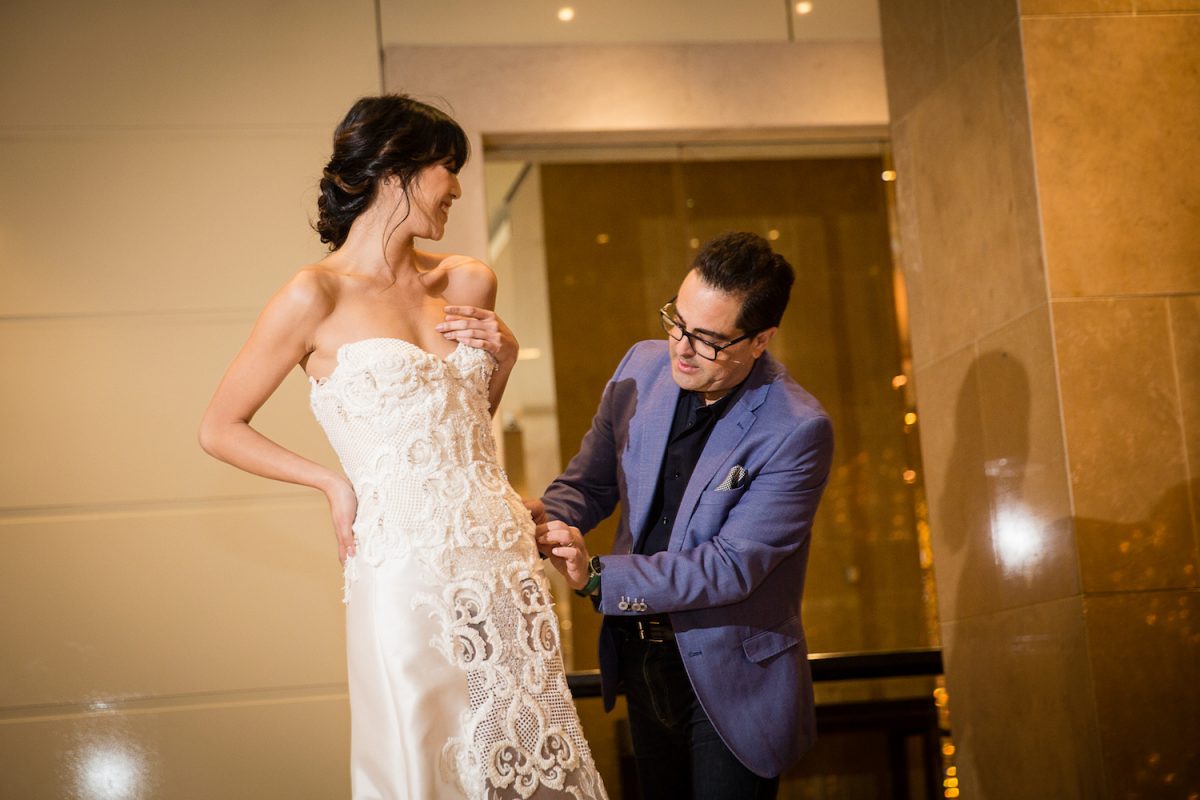 What have you been working on recently?
We did our latest collection last year, but we also always add to those collections. Bridal isn't something that turns around so quickly, I mean there's seasonal pieces but it's not like your autumn winter summer and spring. That way you get more longevity out of your collection, but we still tweak and add pieces to that collection as we go along.
What inspires your collections and new pieces?
It just depends. Travelling is inspirational depending on the architecture and where you've gone. Sometimes it's simply a movie, a feeling, a colour, a rose – it all depends, anything can spark off the inspiration.
What are the trends in bridal fashion at the moment?
The trends at the moment have been around for a while. A lot of heavy lacework, a lot of sheer and detailed lacework. But it's tending to shift quite a bit. It's taking a while for it to happen but I can see it coming – more of a '50s ball gown more simplistic, not as much detail. Then you get the few fashion-forward brides that sort of want something fresher and new with a new twist to it.
And what about colours?
No, not really, colours were really popular a good seven to ten years ago but now it's gone from ivory to pale gold and now going to a silk white rather than an ivory. So not a lot a colour. It depends on the designer too, we all have different aesthetics.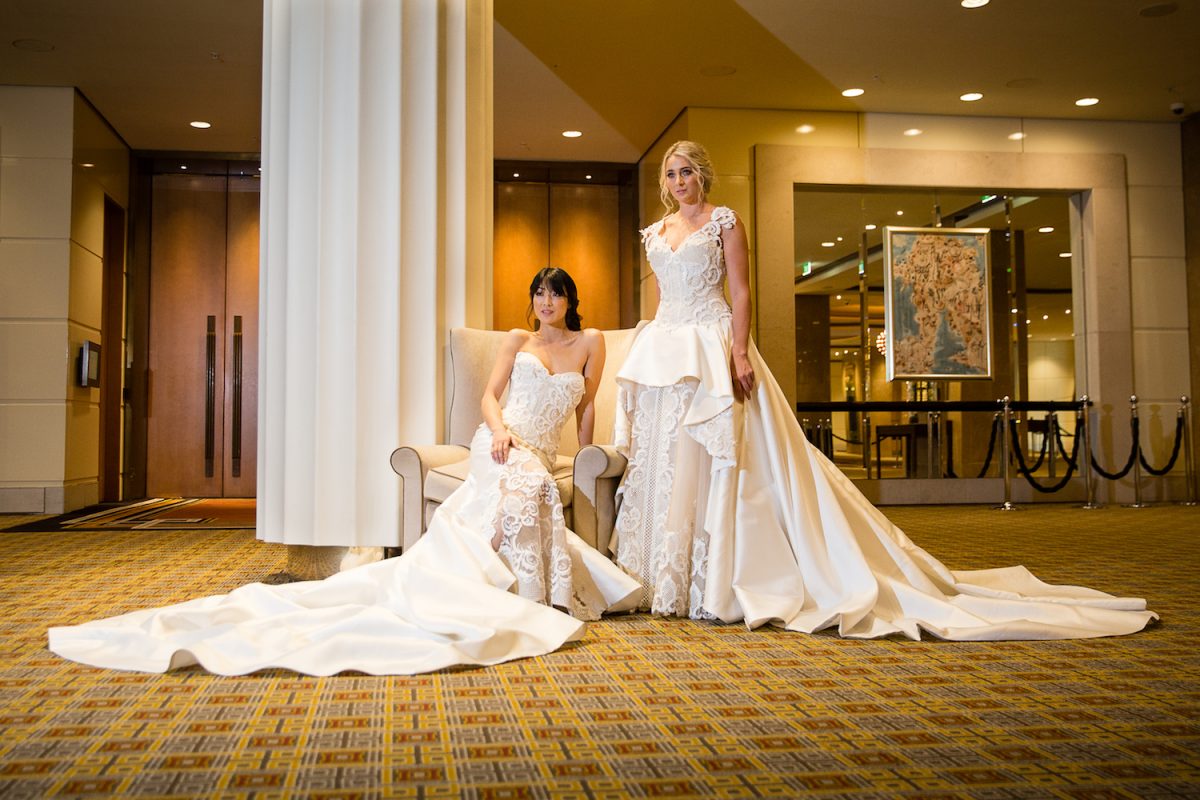 Why do you love being a bridal designer?
I love being a bridal designer because it's your only chance to create a show stopper in these modern times. The days of going to balls and formal functions are not as common. I mean they still exist but they're not as formal. They can wear a beautiful pantsuit or jumpsuit or gown. But being a bridal designer, you get a chance to create that show stopper.
What has been the highlight of your career so far?
Winning the Australian Gown of the Year, The Wool Awards, being featured on television, dressing a lot of well-known celebrities, that's been a bit of fun. We've dressed Margot Robbie and now she's global so that's amazing, we dressed Lisa McCune when she won the Gold Logies, Sonia Kruger, that's been a lot of fun, we did an inspired Kate Middleton inspired dress, it featured in the Herald Sun and we got the front cover so that was a bit of a buzz. We did some work for the City of Melbourne – we created some gowns reflecting city buildings, so yeah over the 30 years there's been a lot of highlights. I've been quite blessed really.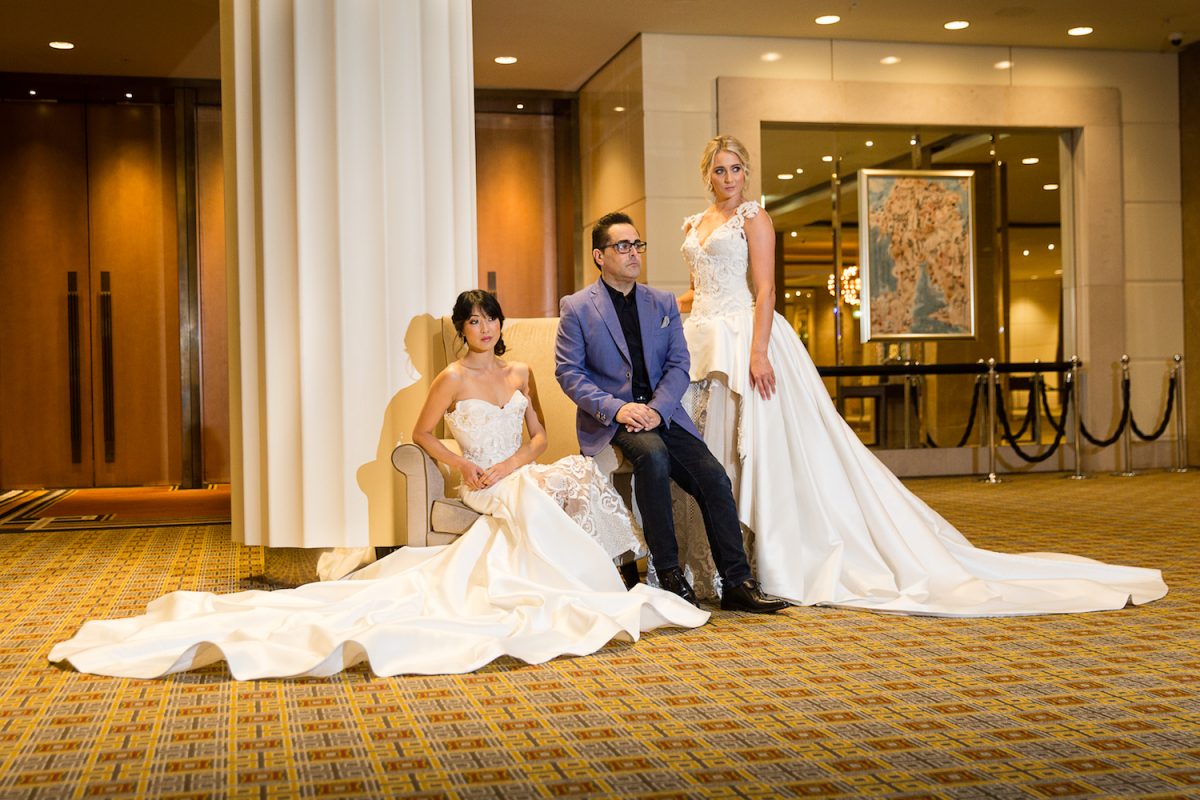 What would you say your style was?
Very classic, from '30s sort of art deco splendour through to vintage pieces through to your '50s sort of classical ball gown type gown – so It's more classical elements to the collection. From whether it's from the '30s, '40s, '50s, or '60s it's more classic pieces from those eras.
Do you have any advice to future brides hunting for their perfect dress?
Don't look at Instagram religiously, use it as a tool but do go see a professional. Go see a couturier and have a consultation, there's no obligation with us and that way you can have something designed that's you, not what your girlfriends think.
What makes your brand unique from everyone else.
The experience, the quality and the attention to detail in the craftsmanship and the fit.
Where do you think your brand's going?
We've just launched a brand off our brand, we've been wanting to do this for years and we finally launched it in February. We've done a collection of couture high-end shoes. They're strictly online and they are elements of and inspired by the 30 years of work that I've done. Drawing on that inspiration I've created a collection of bespoke high-end shoes that we sell online under the label G Terlato. The reason why it's called G Terlato is that is Gesualdo Is my birth name, but I have always been known as Aldo to my family and friends. I was named Gesualdo after my late grandfather and I've always said I would use the G when it was appropriate, so that's why it's G Terlato. That's the connection.
Eve – Melbourne Bridal Fashion Hub
Wedding & Trends Editor
PHOTOGRAPHER – Jason Vannan Photography
LOCATIONS – Crown Melbourne for Crown Weddings