Traditional or modern is no longer something you must choose between when shopping for the gown of your dreams.
For bridal designer Bernadette Pimenta, contemporary style is a mixture of both and as individual as you are.
Bringing each bride's unique vision to life, Bernadette offers a full couture experience as well as ready-to-wear.
Based in Armadale's High street, an area synonymous for bridal couture – Bernadette's gowns encompass a dreamy romantic elegance.
Finding the wedding dress you've been searching for can be a daunting task. But with over 28 years of experience, superb craftsmanship combined with luxe fabrications – it makes a Bernadette Pimenta Couture gown an easy choice.
Tell me a little bit about yourself and your business?
I've been in this industry for close to 28 years and I just love what I do because of the creativity and making brides feel special. I love fabrics and dressing and it just kind of flowed on from there. I started small initially. Then got so overwhelmingly busy I decided to open a shop front on high street (Armadale) and I've never looked back.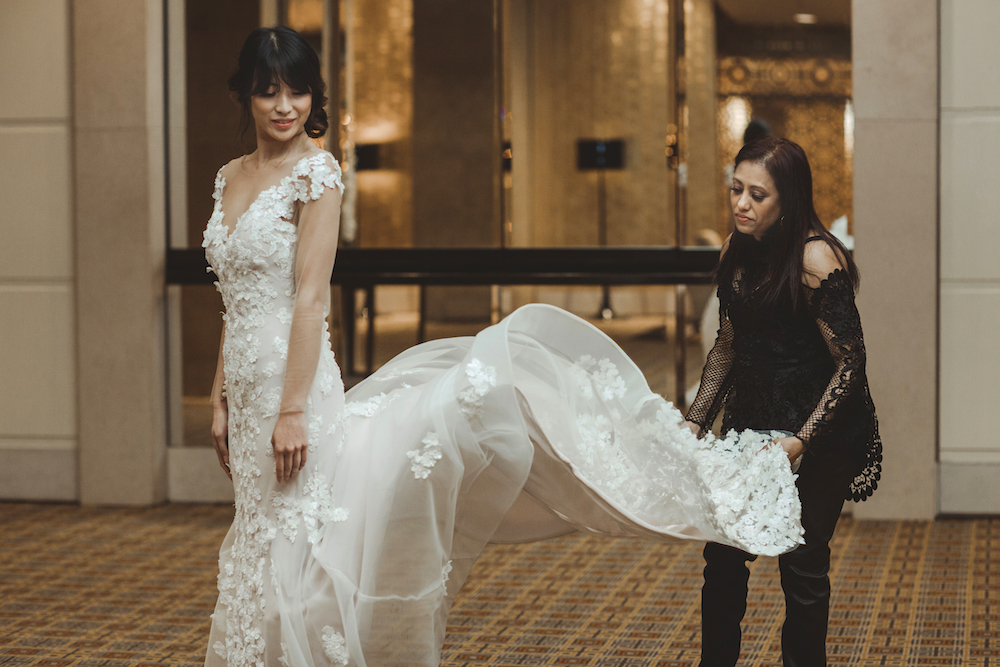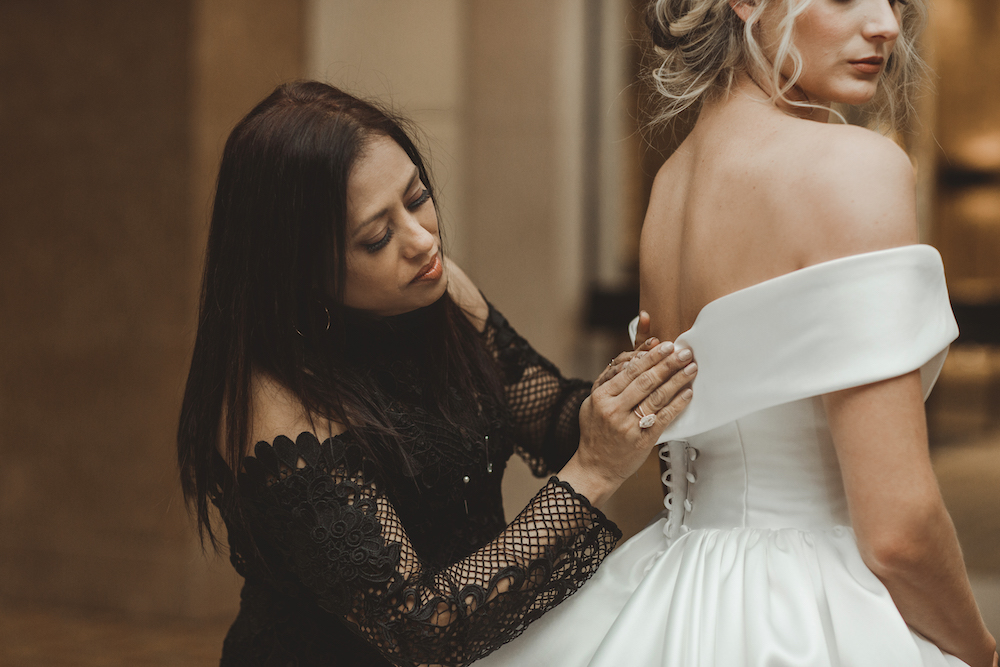 Where do your dresses go to?
Everywhere really. We do Melbourne, interstate and overseas too.
What makes your brand so unique?
Because women can come in tell me what their dream gown is, and I can create it for them. I work with them, they can also mix and match designs for my store that I already have on the shop floor or we can design something specifically for them. So it's something very different from the run of the mill.
What do you love about being in the bridal business?
Seeing the smiles on the bride's faces. It's very rewarding. It's basically when you see a finished product and you know the bride is happy – that's what makes my day.
What are the trends that you are seeing at the moment in bridal?
Some girls ask for the simple gowns, understated elegance. But then there are some girls who do want opulence and the big dress. The main trend is chiffon. Traditional detailing to more modern and contemporary moving away from floral lace. Brides are more knowledgeable now. They check out the options and do a bit of research. They're more daring too – going for the lower necklines, more fitted and a bit sexy. They're not afraid, they are confident. We are always doing something different it's not just the same dress which is exciting.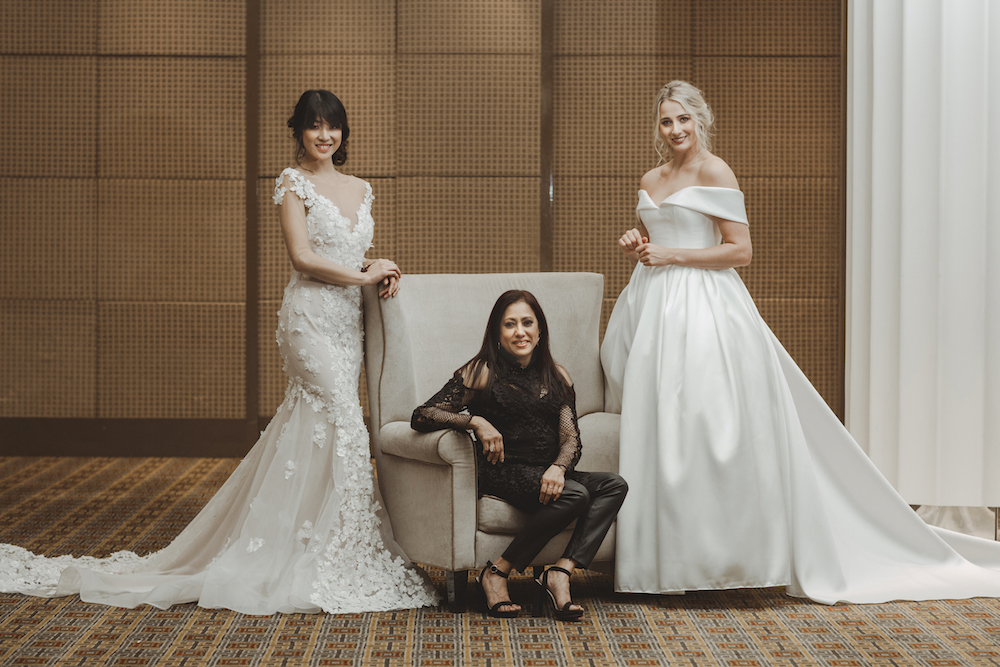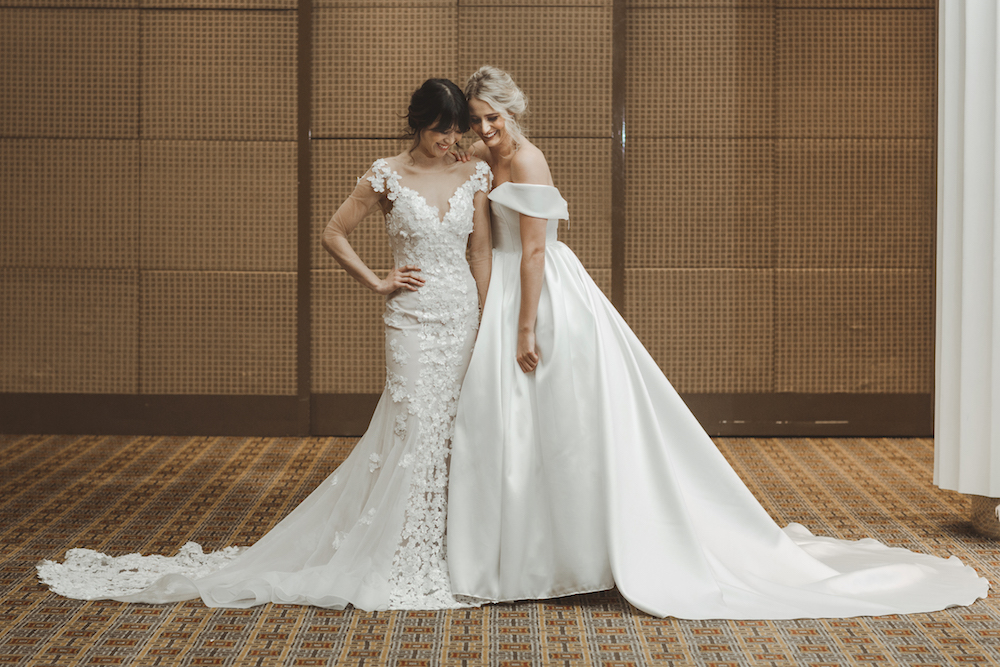 What about colours?
More a nude palette, a bit of peach, bone, blush. So again, the clients are quite modern and daring. We have one dress that's white based but has colours printed on it. It's got the browns, pinks, blue tones, a bit of greenery through it and a floral print. That's been quite popular for evening wear and even brides. They are ready to be a little bit different and they want something that's going to stand out and still look like a gown. They want to be that stand out bride.
What do you predict for future trends?
It changes quite quickly and relies a lot on fashion. So, it depends. High fashion influences bridal of course but it's just aspects. But perhaps simple elegant lines, less is more. It's a well-made tailored dress that fits them beautifully.
Do you have an online presence? Do you find it important?
Yes, it's changed now from magazines to online. Women, even before they are engaged they are already online looking. Pinterest, Instagram, screenshotting things.
Do you have any advice for a bride looking for the perfect dress?
Check out all the options, try on different styles and have an open mind. Sometimes what you think might suit you may not. It's always good to have an open mind and have an idea. Just don't try too many on. I was speaking to a friend recently and she said she tried on so many dresses and by the end, she got so confused she kept changing her mind. Limit yourself to how many you try on each day.
So where do you think your brands going? Open another store, expand etc
We won't open another store, we want to keep the brand exclusive and personalised. We feel it's a special day for them and they need that specialised service. For us to tend to their needs, especially for couture. We are going to keep going the way we are going because we love it.
Eve – Melbourne Bridal Fashion Hub
Wedding & Trends Editor
PHOTOGRAPHER – Jessica Rose Photography
LOCATION – Crown Melbourne for Crown Weddings