Con Iliopoulos is the Creative Director and Designer behind CON ILIO, the evening and bridal fashion house based here in Melbourne.
Totally self-educated and only 31, Conilio's journey so far is seriously impressive.
With his painstaking attention to detail, crafting couture from the tender age of 16 – he shows no signs of slowing down. And why would he? Con ilio's designs have been seen on the red carpet and worn by high profile brides alike.
We chatted to the designer himself about what inspired his upcoming collection, how to find *the* dress and hot tips of trends to come. Merging high fashion and bridal, Con is as enchanting in real life as his gowns are.

Tell me all about yourself how long have you been in this business?
I've been doing it since I was 16. But it has actually been since I was a child. From the time I could walk and talk I was making dresses on Barbie dolls out of napkins.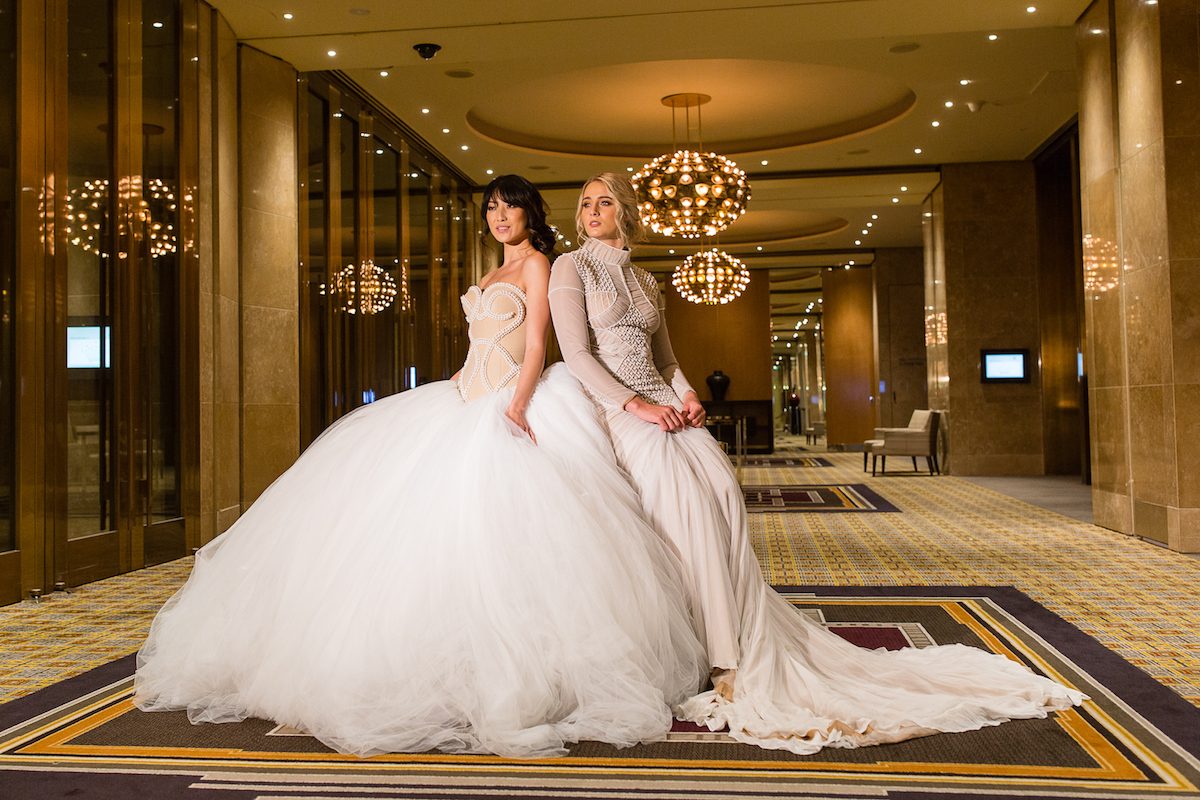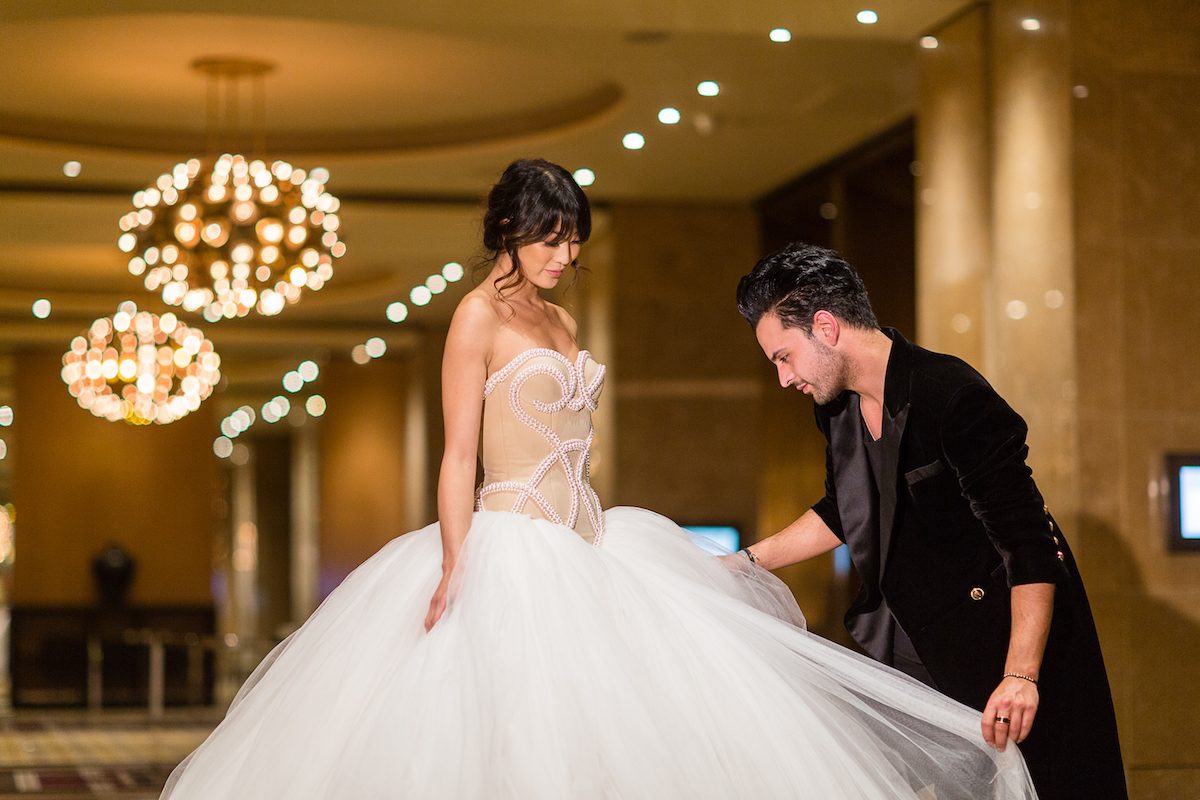 So what have you been doing recently?
There are some things I can't talk about, but I am working on a new collection which I am hoping will be ready early next year. A lot of work is going into it and it's probably going to be the biggest collection I've ever made or designed. I think it is going to be something really different to what is seen out there. I am really hoping everyone doesn't just love it, that I shock some people too.
What inspired the collection?
A pair of shoes! One of the brides that I met, we were talking about shoes and I was always pushing blue shoes and she was getting some blue shoes for her wedding anyway and the shoes that decided on inspired me to design an entire collection.
What are the trends in bridal fashion at the moment?
The ball gown is definitely making its comeback and some designers are still doing the tight-fitting gown. Very soft and whimsical I find that's what's really coming in. People are still doing a lot of beading, I think the nude illusion look is slowly starting to leave. I find that block colours and embellishments, embroidery beading and print is all coming in. Big trains were everything and everyone was going bigger and bigger. I think no trains are what's to come.
And what about colours?
The thing is, brides these days are more daring. They're starting to do colour. I like working with (the colour) bone a lot, I think it's really beautiful soft and elegant and bone really compliments all skin tones.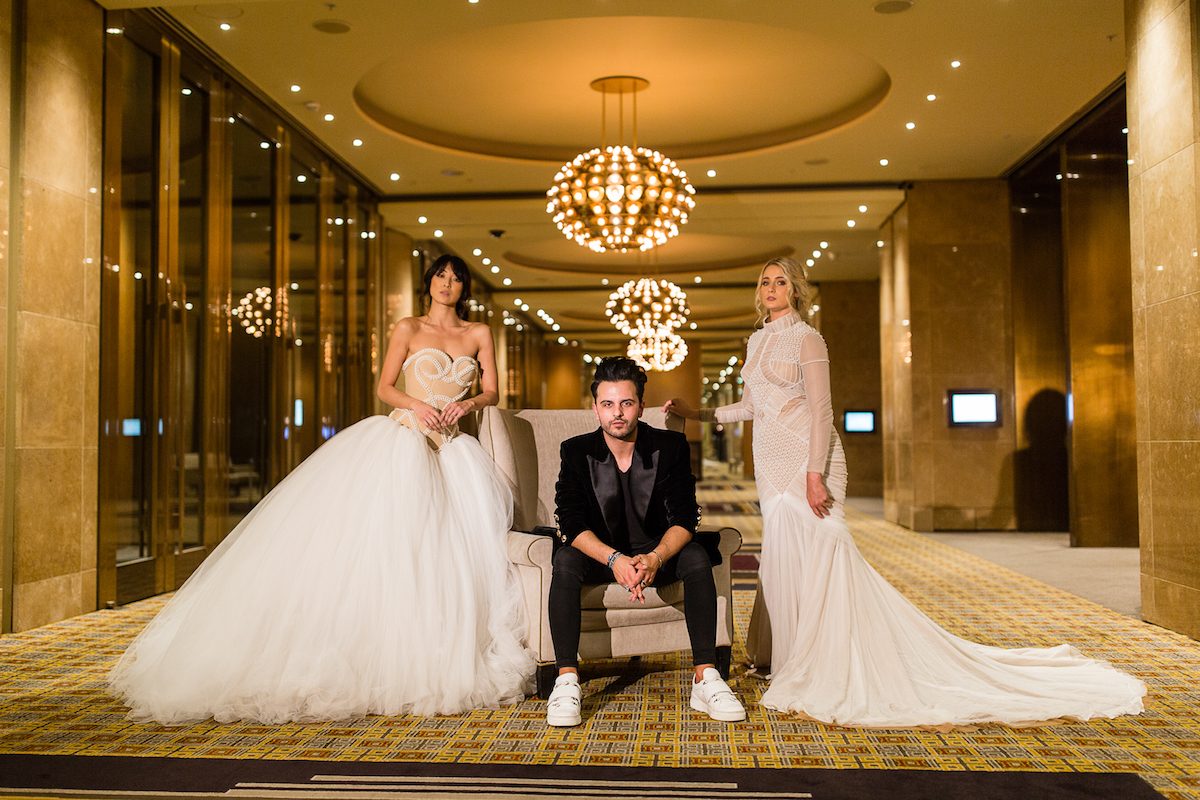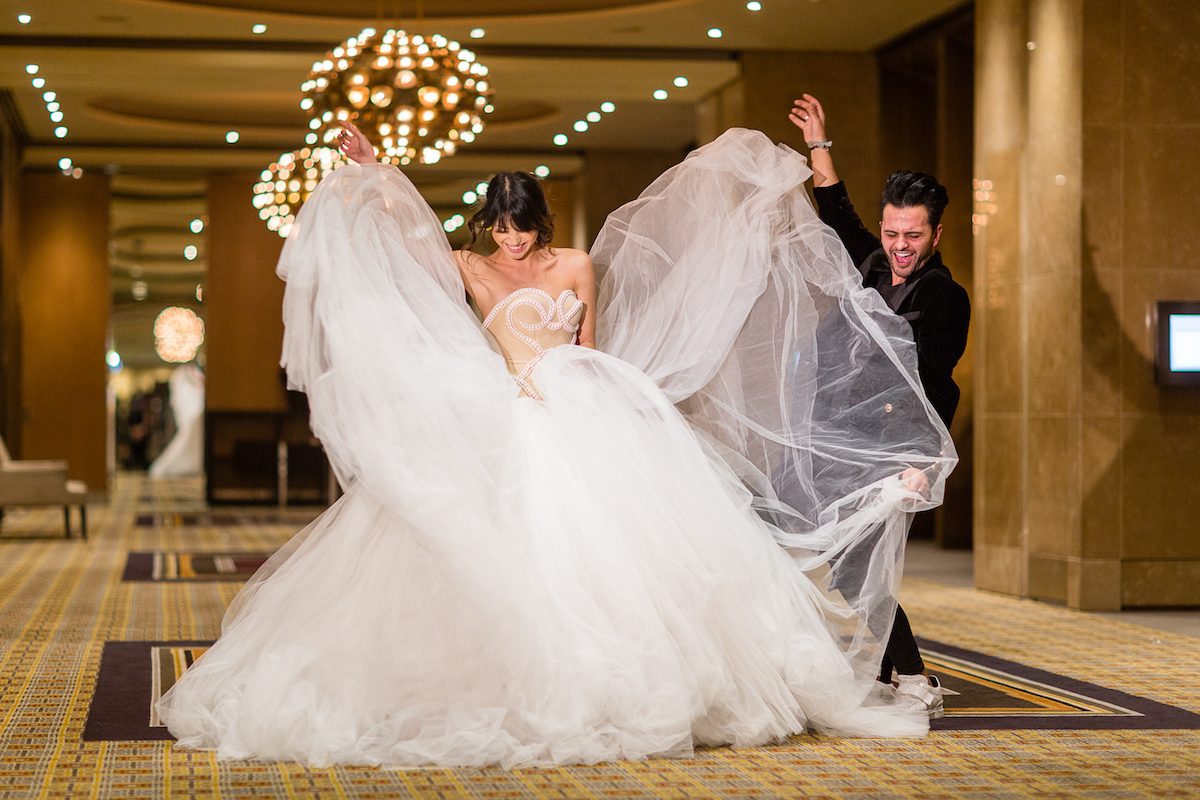 So what led you to this point? Did you go to design school?
I taught myself. I used to steal clothes from my mum and friends' mums and literally pull them apart to find out how they were made. They never found out, they still don't know to this day. I've spoken about it in some interviews, but they never know it's them. I started doing sewing classes after school with more mature women who have had the experience. Firstly I taught myself how to make a pattern and then I learned different techniques from all the different woman. When I finished high school I was already doing gowns for clients. I went from costumes to formal dresses to deb dresses and the wedding gowns and then I knew. I loved brides and I loved wedding gowns.
Why do you love being a bridal designer?
It has to be because of the people I get to meet and work with. Doing couture, I get to work outside of the box and go as crazy as my imagination can take me, and it's just so much fun because it's based on the person's personality. I get to know the client, try to understand their style and try to not take them outside their comfort zone but put them in something they would love to wear but don't realise it yet. Like this is what you would love to wear to coffee and it's a ballgown, but who doesn't want to wear a ball gown to coffee? Or wear a ball gown when you're cutting the grass? It's always a challenge for me and I love that.
It's also the end result and the way they feel. First I need to be happy, because if I'm happy, then they're going to be happy. You have this feeling inside of you and you just know. The feeling at the end when it's finished is just incredible. It's being an artist and then finally showing the finished product after working on it for so many months.
What would you say your style was?
I would say I'm daring sometimes. I like to put colour in my gowns or use denim or leather. I guess in a way I'm very classical too. I like a classic cut and try to create something timeless, keeping it within what's happening at that point but throwing in a twist of me. Classic but cutting edge.
Do you have any advice to future brides hunting for their perfect dress?
Your first instinct with the first gown you fall in love with, stick with that. Also bring fewer people to your appointments, because too many opinions shadow what you really want.
Where do you think your brands going?
Everywhere. I want to be in Dubai, Europe, the states, Asia, that's my goal for the next five years. Expansion. Also, a ready-to-wear collection at some point. I know I'm not going to be able to design for every single person that walks through the door. So people can have a little bit of me who do like the brand and something that's more affordable and accessible.
What makes your brand unique from everyone else.
Me. My personality. I don't stick to what's in If everyone's doing something I do the complete opposite and I'm going to find what that opposite is and make it me.
Eve – Melbourne Bridal Fashion Hub
Wedding & Trends Editor
PHOTOGRAPHER – Jason Vannan Photography
LOCATION – Crown Melbourne for Crown Weddings