With a career spanning over three decades, Craig Braybrook is widely renowned as one of Australia's leading couturiers.
Known for beautiful workmanship and head-turning gowns, the name Craig Braybrook Couture is synonymous with the gold standard of bridal wear and loved by brides everywhere.
Recently, Craig Braybrook unveiled The One Bridal, a range of chic and contemporary wedding dresses that won't break the budget. Extending his vast portfolio was a reactive response to what he noticed fashion-forward brides were wanting. Bridal's recent seasons have proved especially exciting for the bride seeking something different from frothy, extravagant gowns and The One Bridal reflects this shift. 
Read on to hear from the designer himself about the motivation behind this latest release, and what you need to know when shopping for the perfect dress. 
Tell me all about yourself, how long have you been in this industry?
I've been in the industry for over 30 years now, probably 35 which is a bit scary. I studied fashion at RMIT and did a few dresses for people when I was still at college. It just kind of snowballed and it's all I do now.
So tell me about what you offer brides for their wedding day?
We have a range of samples at the studio but most of our work these days is custom gowns. We have a consultation with the bride and we usually ask them to bring in some images of what they like just to give me an idea of their personal style. Then we try some of the samples to find the right shape for them, we also have beaded fabric samples here that we show them and then we'll just go about working out what suits their body type but is still relevant to their style aesthetic. We take brides to one of our beaded fabric wholesalers and then put together ideas from that as well.
What is the recommended time frame for this process?
Our rule of thumb is at least six months. Most girls would come to work 6-12 months before their wedding. We have done lots of rushed jobs as well, we could potentially do it in a couple of months if we had to. If you wanted to order in fabrics or get them custom made you would really need the six-month window.
What have you been working on recently?
Just before the last bridal expo, we launched a new brand called The One Bridal which is a much more modern and contemporary and made to order range. It's a lower price point than the Craybrook Couture gowns but it's much more fashion-forward, clean and sleek.
What inspired the new brand?
I guess in the last couple of years I've seen a bit of a shift in trends and girls wanting simple gowns, [they're] getting married at perhaps wineries or destination weddings. Where it's not quite so full-on and they want a much simpler and cleaner aesthetic rather than intricate beading and over the top designs. We also noticed that people are a lot more budget-conscious as well, so we wanted to cater to that market too.
What are the trends in bridal fashion in the last 12 months?
For the last couple of years, there's been a lot of the nude underlayer under dresses that is something I think is starting to fade out, girls are wanting dresses to be all in one colour. So it's a lot crisper, a lot fresher and just looks a bit more relevant for now. Beading is still in, but we are going a bit more delicate now, not so chunky. Definitely bigger skirts are huge again now. We've been doing that kind of fit and flare, mermaid shape for years and years and now there's definitely a big swing back to huge skirts.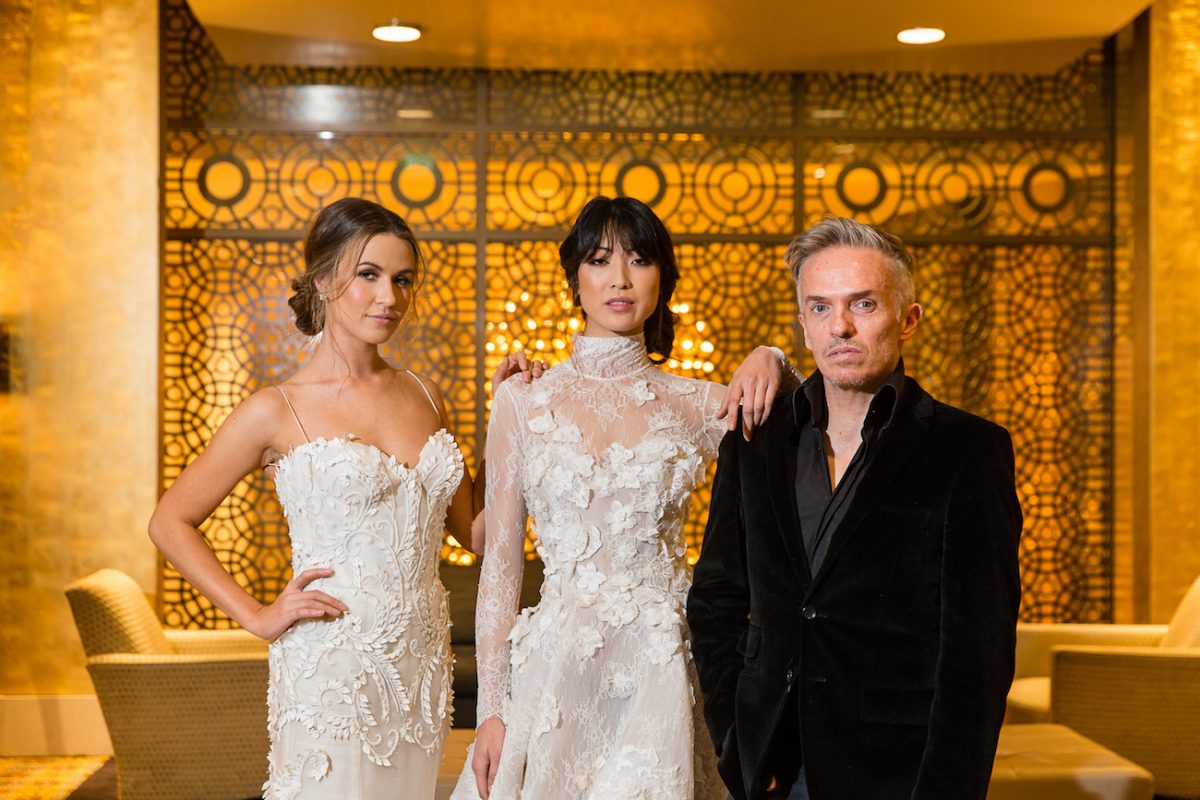 Any predictions on trends moving forward?
I think strapless dresses are on the way out as well, we've done hundreds and hundreds of them. Sleeves are definitely a huge thing that's going to happen more and there's still lots of sheerness with delicate beading.
And what about colours?
We're still doing a natural which is not white it's not ivory it's kind of an in-between shade, we have also been doing blush undertones. Things are getting prettier I think.
Why do you love being a designer?
It's fun creating things for people and making people happy, I've always loved that aspect of it. I love when you actually finish it and you look back and go "we did that" it's amazing. You're making people's wishes come true. Once you step back and think, I've been doing this for so long and think about how many dresses you've made for girls, yeah it's pretty massive.
What has been the highlight of your career so far? 
I guess having the longevity and still being in the business for a really really tough business. There's always new people coming in and leaving the industry. Just the fact that I'm still here and still doing it is huge
I also twice won the Melbourne Cup Fashion in the Field Designer competition which was amazing. They are probably the two biggest ones for me. I got a car and a trip to Paris, it was worth it.
Favourite dress you've designed?
The second time I won the Melbourne Cup competition because it was 3 am and I still wasn't finished and I hated it and then somehow it all came together and I ended up winning which was fun.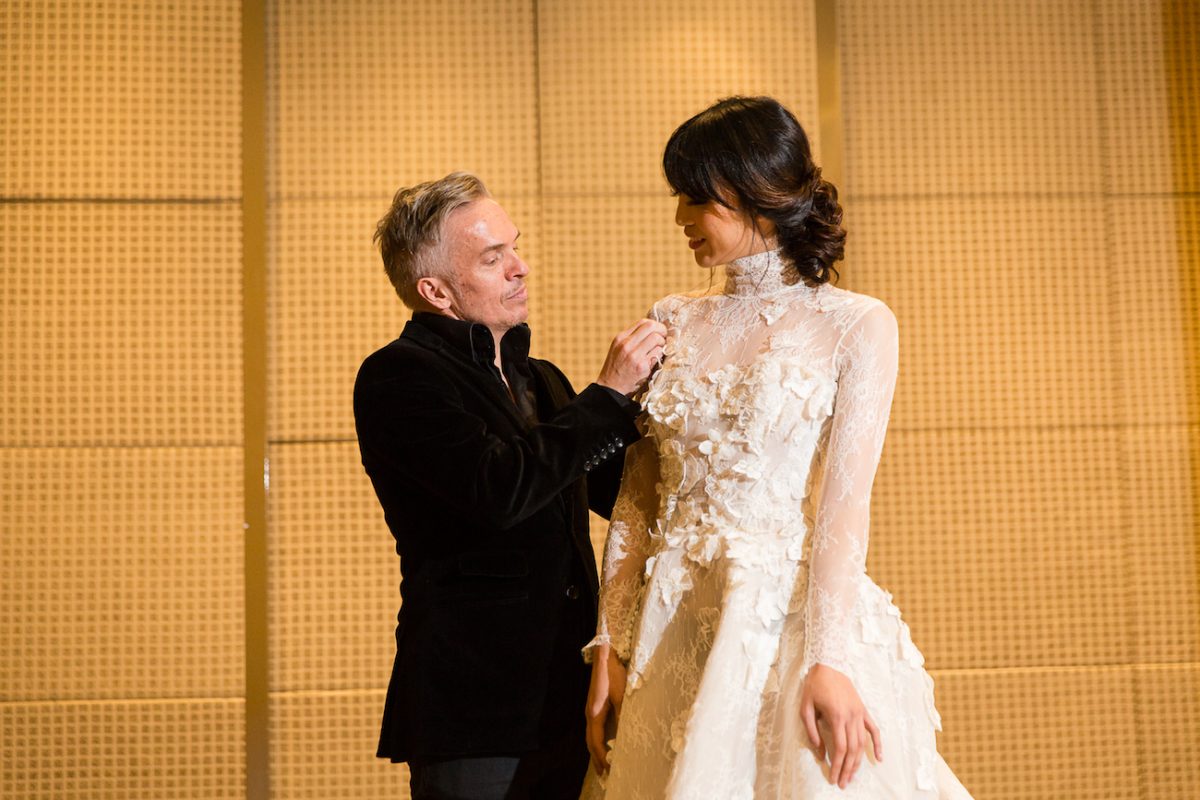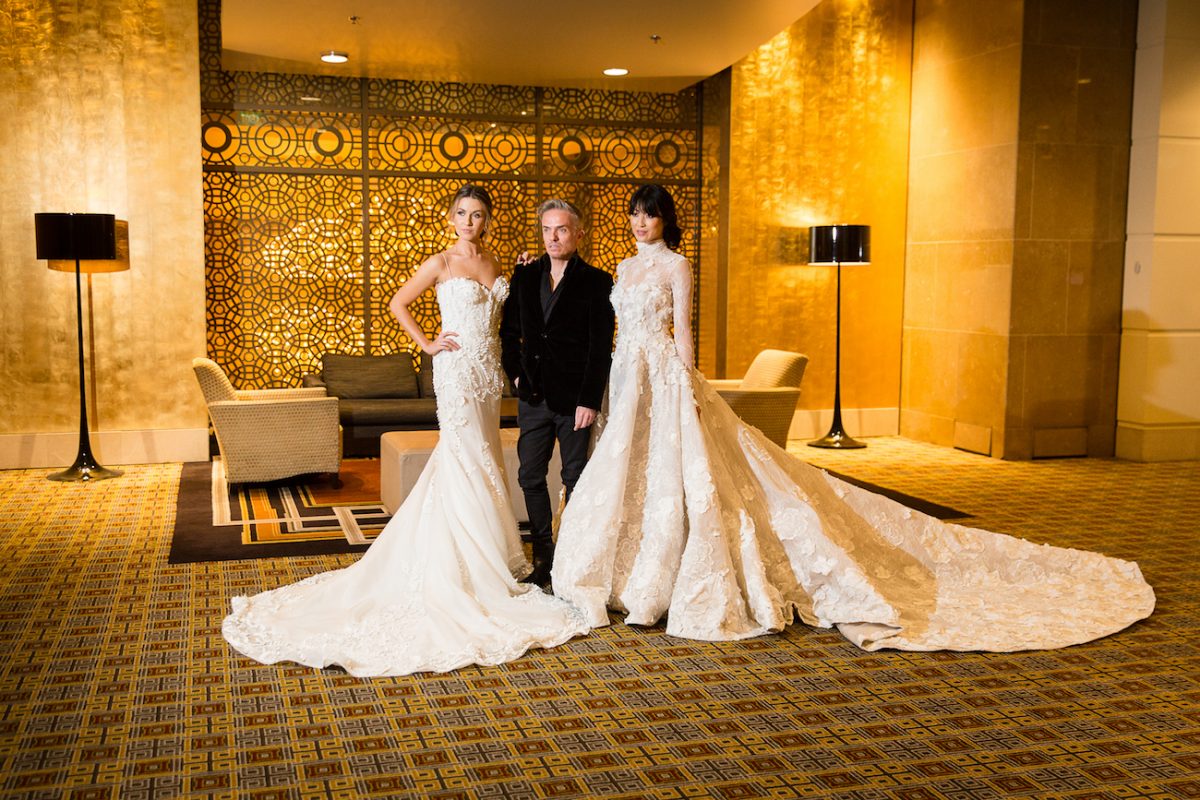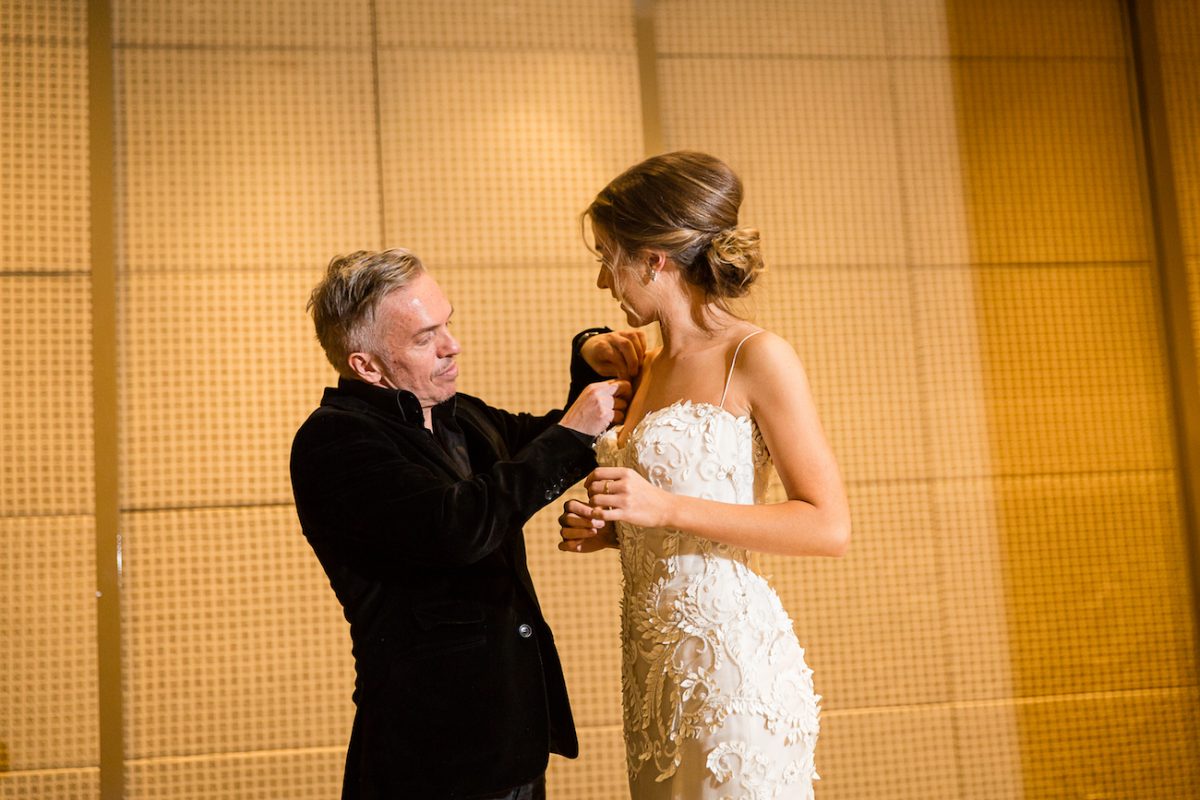 What would you say your style was? What are you renowned for?
I don't think I have one particular trademark style because we work with each girl to create the style for them. I guess I am really known for my fit and my make, the quality of my construction and beadwork, we have some amazing beaders in India that we use, we do some really incredible beading.
Do you have any advice to future brides hunting for their perfect dress?
The one thing I always say to them is to not just look at what's in fashion and trends. To go with what suits you not what you think you should wear. Go with what works on you and don't go with something because that's on-trend.
Where do you think your brand's going?
We are really working on The One, we think it's something we could take overseas, not just in Australia but worldwide, New York Fashion Week, Chicago Fashion Week or London Bridal Fashion Week and launch it there. If it's just custom gowns that you're doing it's a much more limited market.
Eve – Melbourne Bridal Fashion Hub
Wedding & Trends Editor
PHOTOGRAPHER – Jason Vannan Photography
LOCATION – Crown Melbourne for Crown Weddings