Tell me all about what you offer brides for their wedding day.
We offer a range of services, the first one being made to measure. That's when brides-to-be pick something from our current collection and we use that shape, but we change the details like the lace and trims. We don't like to replicate a gown, if you want to replicate a gown you don't come to me. Another thing we do is couture which is when we start from scratch and we design something for you. My biggest thing, after being in the industry for 23 years is understanding what the shape looks like. What flatters the shape. We manufacture everything at the back of the warehouse and on the other side of the building is our showroom so therefore our clients can see where everything's created. In terms of what I offer, I look at the body shape and I recommend fits and talk about shape rather than the dress. I think the biggest thing is not all dresses can suit a person even though it's the dress they've been dreaming about for most of their lives. We discuss, and I educate about what dress looks best on their body shape and then we design around that.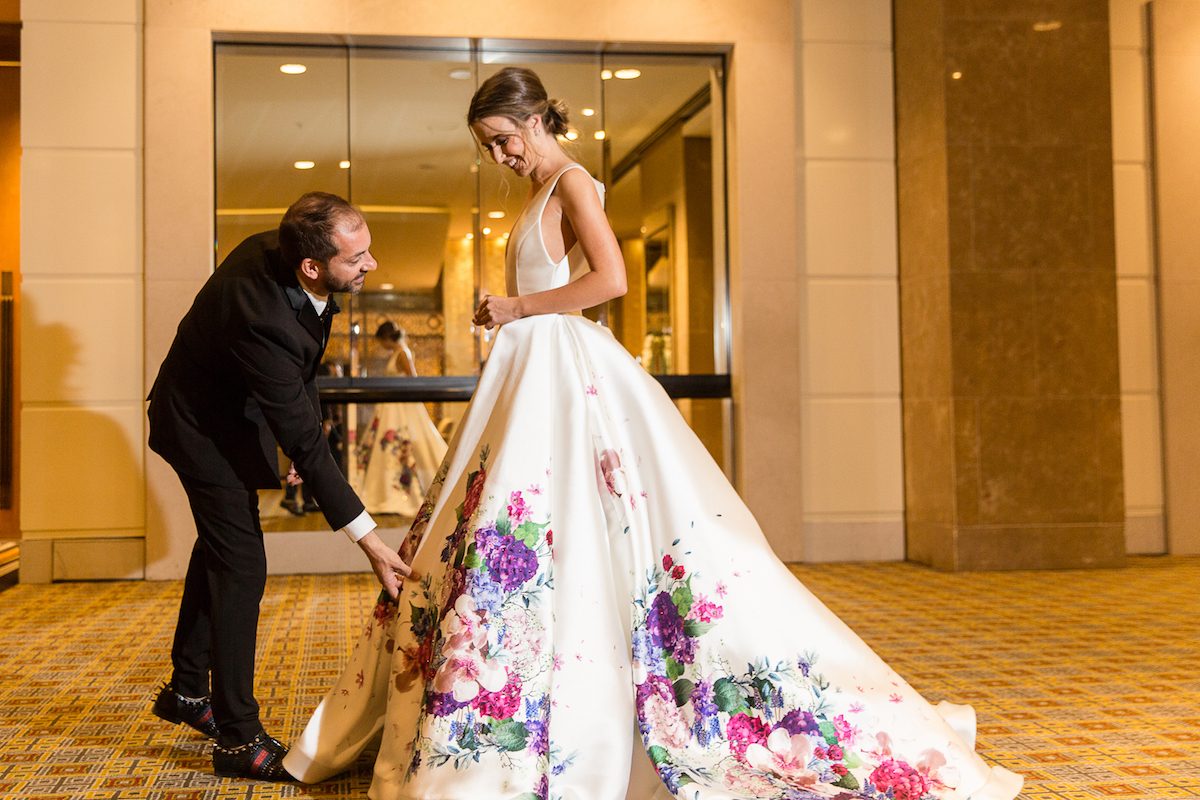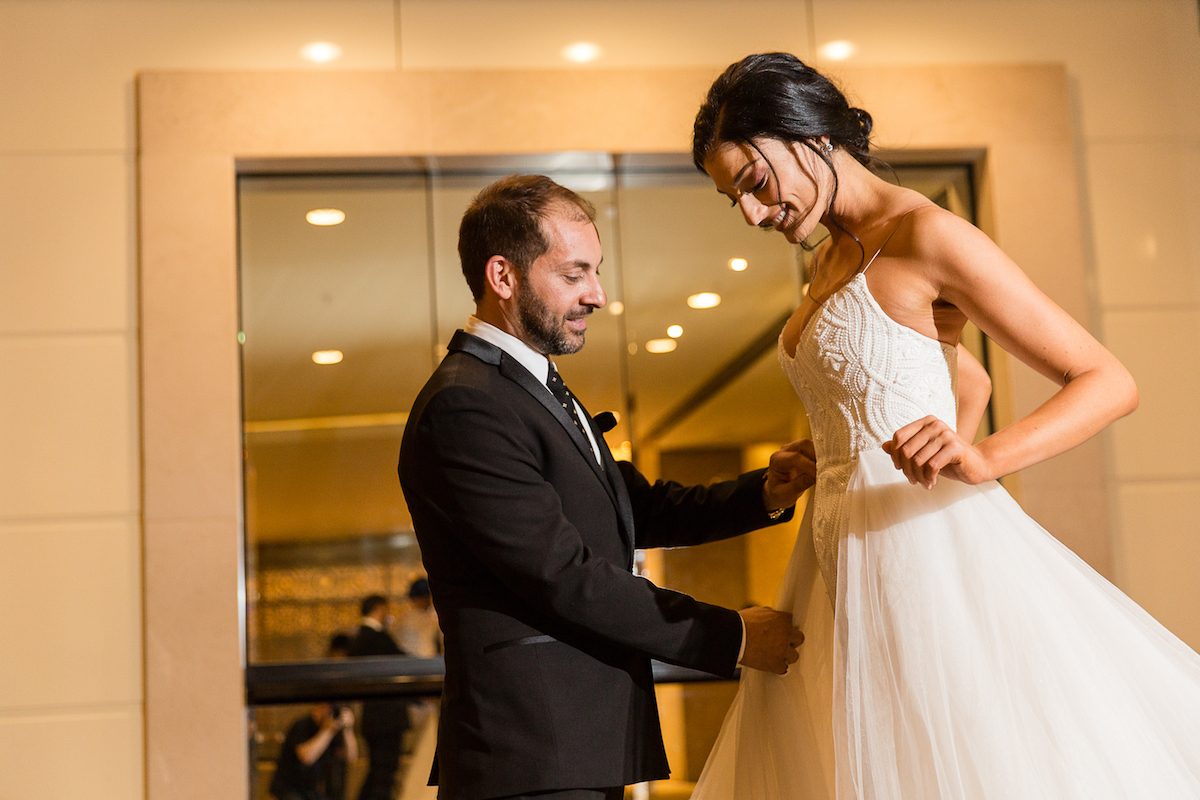 What have you been working on recently?
We are working on our latest bridal collection which we will be released soon, we also work on evening gowns which is a lot more experimental and cutting edge. Recently we made a dress for Grammy award winner Mya at the Arias and we also made a dress for Melly Singer for the NGV Gala. At the moment we're working on the next bridal collection and we're working on our next evening collection as well as some really special red-carpet pieces.
Have you noticed any bridal fashion trends at the moment? Anything that people are asking for more?
I think trends all depends on what designers you go to, I personally don't like to follow trends, I like to lead them…I'm not a sheep. We just do our own thing. But recently we have done a lot of printed gowns and we're currently doing a lot of laces that are quite embellished too. We have come to a point where everything's about social media, everything's about being elaborate. I think the middle eastern weddings currently have been very influential to many brides, it's the big story of romance and royalty and extravagance. Also, everyone wants something customised for themselves that's one area that I've seen a surge in popularity in, and then another trend is that very contemporary style. One is over the top and one is contemporary I've not figured out what's in between yet but it's one or the other.
Why do you love being a designer?
If it doesn't scare me I don't love it because it's not really pushing anything. What I love about designing wedding gowns is that is gives me the ability to work with someone a lot more one on one, it means I get to work with the most amazing fabrics available and it means I get use really ancient couture techniques. I get to meet someone and spend time with them over the six months getting to know them and being part of that journey seeing them from the first fitting to their wedding day is really special. I find it really humbling that people give me the opportunity to be part of that. I think that if you're getting married and you choose a designer that you're putting a lot of trust in them. I think a lot of women dream about their big day since they're kids. It's such a special time, your photo ends up being on your parents, grandparents and aunties mantel piece. So, I find that to be the most rewarding aspect.
What have been some of the highlights of your career so far?
That's a tricky question, I am someone who is not always happy or content, I always strive to be bigger and better and just want more and more all the time. I find it really hard to stop and acknowledge what I've done. But some of the biggest highlights. I did a show earlier this year in Malta as part of Malta fashion week, which showed our evening wear and our bridal. That was really special because going back to where you come from or where your parents come from and acknowledging your heritage is really special. I then came home and designed my current fashion collection inspired by what I learned overseas and my family so that's been a real highlight. For me, the Brownlows is always exciting. It's a time where we let loose and we design something for somebody and make it all about them. That's a really special thing for me. Another highlight would be my partnership with IBM, I was the first designer to design a complete collection with them.
Do you have any advice for future brides hunting for their perfect dress?
I think if you're going to a professional you take their advice. You need to be open and leave your opinions at the door sometimes, especially on your first consult. If you're going to a professional let them do what they're trained to do. We get so many through the door and they all have their idea of their perfect dress. I look at their body shape, I put them in something that they should consider and then when they put it on they see the advantages. I think always take risks. If something doesn't scare you it will never be memorable. Another thing is you don't want to be classic. We get so many brides that walk through the door and I ask them what kind of dress they had in mind and a lot of the time they want their dress to be classic. They want to look at it in five years' time and for it not to date. I don't think that's the way to go. Be fashion-forward, take the risk – because in five years' time your classic dress won't be classic any more anyway. Fashion is an evolving wheel. What will be fashionable today won't be fashionable in 20 years. If we break that down, there's the influence of big sleeves right now being all the rage. We haven't really seen that for nearly 20 years. The last person who did that that comes to mind would be Lady Diana. I look at her wedding dress now and I see it as fashionable. If I was about to get married, I would rather be fashionable and be a leader rather than follow others.
Be inspired by the journey of it, not just the day because it's over in a flash, enjoy the complete journey. Rather than just being stressed the whole lead up. From the minute you get engaged to when you get engaged, look at that as your wedding.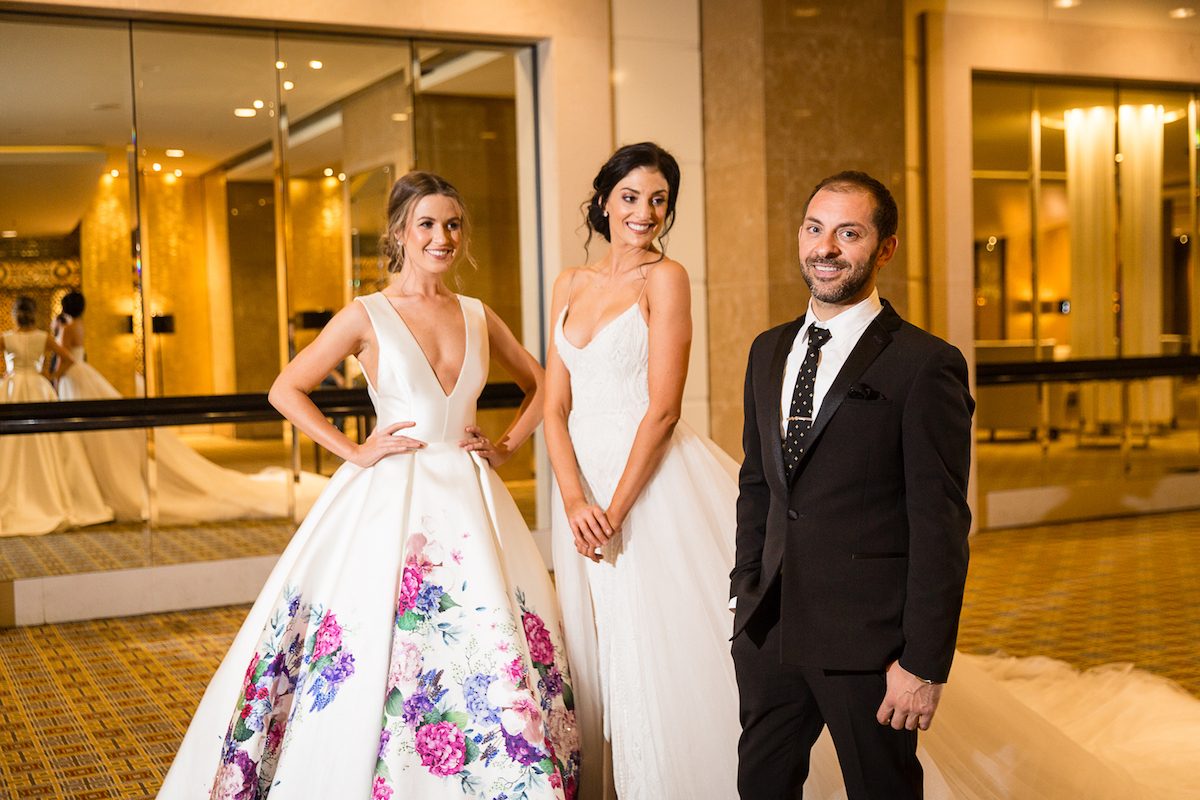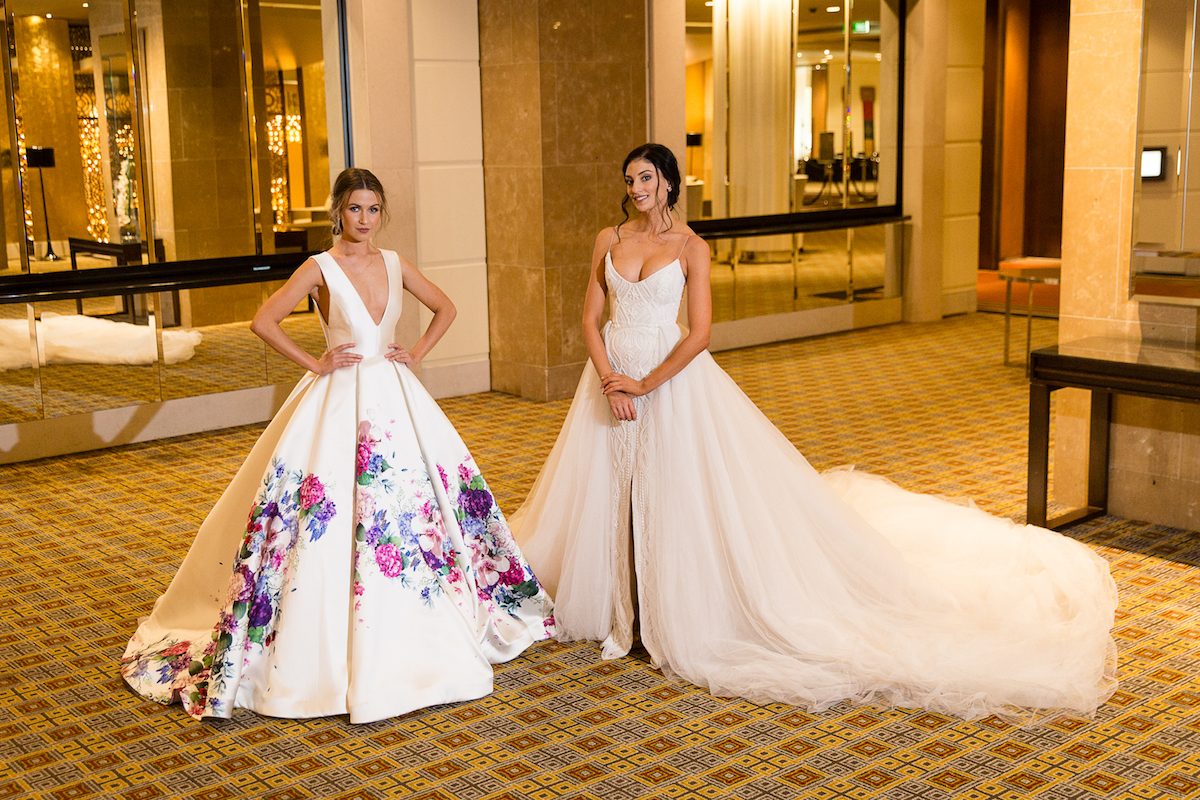 Eve – Melbourne Bridal Fashion Hub
Wedding & Trends Editor.
PHOTOGRAPHER – Jason Vannan Photography
LOCATIONS – Crown Melbourne for Crown Weddings