Why do women choose to wear colour on their wedding day? Simply, because they want to. Silvana Tedesco designs wedding gowns for the fashion-forward rebellious bride. Breaking free of tradition and societal expectations on what wedding dresses *should* be, it's entirely up to the bride from start to finish. This makes all facets of the experience meaningful and personal, with Tedesco there every step of the way.
Tedesco's specialty lies in the clean cuts and the ultimate fit. Based in Hawthorn – next stop the rest of the world, we chat about what's most rewarding about being a bridal designer and how heartbreak influenced her last collection.
Tell me a bit about yourself and when you started in this business?
I started in this business when I was 16 years old at another Australian bridal house. I was always creative, so I just knew I would do something creative but just having that stepping stone was my way in and I just learnt from really good people. I always knew I would have my own business one day and at 26 I opened my store in Hawthorn.
In 2005 I came back and I set up my business straight away and it was basically corsetry, lingerie and burlesque. One thing led to the next and I started working in the bridal industry. In 2009 I completely took the plunge and thought okay, I'm going to do this. It was all about couture and tailoring, I used to do a lot of suits and coats and that kind of thing as well and slowly I streamlined it and now I just focus on bridal.
What inspired your latest collection?
Heartbreak – that's what inspired my last collection.
What aspect of heartbreak do you think influenced it?
The feel of it, the release that came with designing the collection. I took it to Italy and photographed it and since then I've been adding dresses in slowly.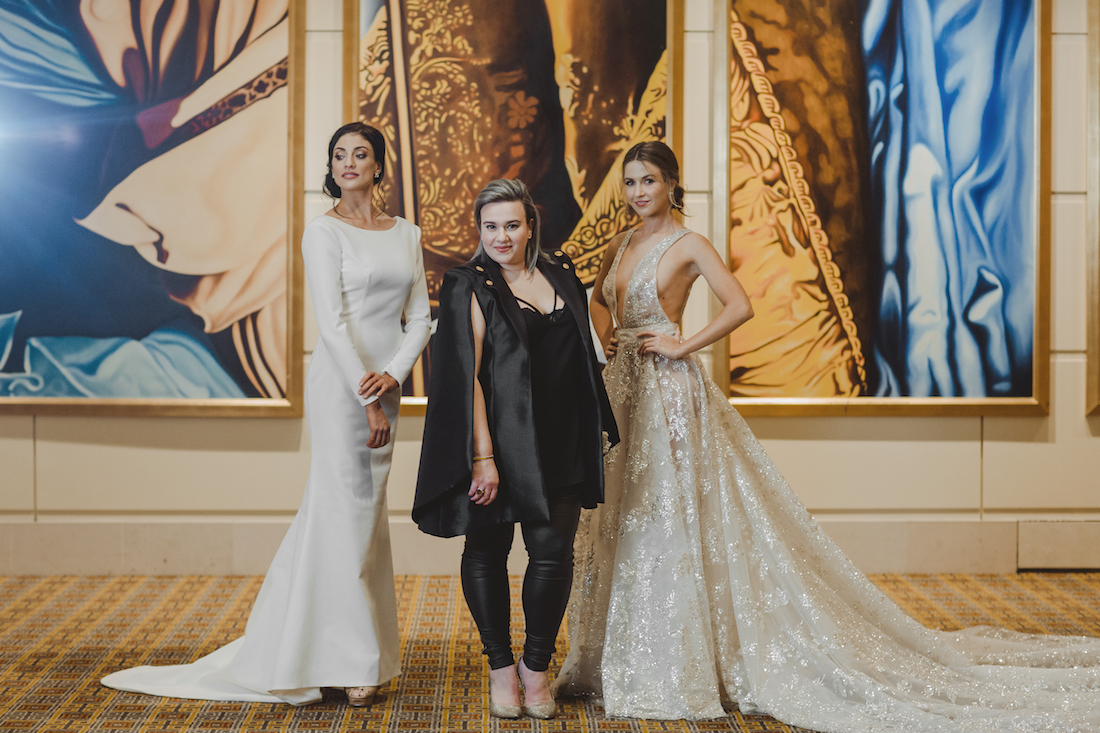 What inspires you usually?
Life experience – my next collection that's getting made now is a mixture of things. It's a mixture of fun, it's a little bit serious but it's a little bit out there as well. I've gone for more of a fashion forward approach, not so much a bridal approach. Which is how I like to design, I don't really have traditional gowns I don't think. That's how I describe my style as well. Fashion-forward, modern and lots of clean lines. Not too much embellishment. I believe in a good fit and cut is what makes a dress. Not so much all the crap [embellishments] that goes on. I mean there is beauty in that, but there's also beauty in the cut and the fit of the gown. It's all about how the person feels. That's the main gig. It's so important to me that they feel incredible when they look at themselves for the first time. It's almost like they've never seen that person before. That's what's most important to me. It's what the gown does for them.
What do you love about the bridal business
I just love creating. I love creating gowns for women, I just love the feeling they get when they see themselves for the first time. When they haven't seen themselves like that before. There's nothing more rewarding than watching them go through this. It's a split-second moment. I can't even describe it. But the feeling that I get when I see that is why I go to work every day. That's my goal with everything, that's why I wanted to do fashion. I wanted people to feel incredible. No matter what shape or size.
What do you love about being a designer
I get to create whatever I want. I don't have to follow any rules. If I feel like I want to design something, and I want to make it a bit cool you know I can. Working for yourself you do have that freedom, which I love. I love being able to create. It's a special skill guess. Anyone can be creative, but actually following a passion and being creative is the best and I feel very lucky.
What are the trends you're noticing/what are people asking for more?
It's weird, sheer's very in right now, it's been around for awhile but I feel like it's still quite popular. I think because I offer quite a different look, I'm getting a lot of girls that are not wanting ANY embellishment like not even one bead. All clean cut, modern fresh lines, which I LOVE to do. So I'm finding that really popular right now. I'm seeing a lot of nice and simple V necks. Fitted and flared seems to be the go and also big flamboyant shoulder details.
In the next year or so, what trends do you think will arise?
I make a lot of black wedding dresses, and I feel that maybe, I think that people are feeling they can be freer. They're thinking okay, the dress doesn't have to be white. So maybe colour. I feel brides are more liberated and open to choosing colours. Even if it's only pastels or something like that.
Do you think high fashion influences bridal fashion?
It does for me, absolutely. I would like to think my gowns are high fashion. They just cross over into bridal.
Do you have any advice for future brides looking for the perfect dress?
Be open-minded. What you have in your head might not be what you fall in love with. Try and bring minimal people to the first fitting because the only opinion that counts is your own. Have a realistic budget for what you're searching for. Example being if you want off the rack it's obviously going to be less expensive, so be reasonable. Once you choose something don't go back searching. Be 100% sure. There's nothing worse than someone who keeps calling you every month and changing their mind.
Going forward, where do you think your brands going?
I'm going to introduce a fashion brand under my own name. Expansion, hopefully globally. I've had some interest from overseas.
What makes your brand unique to everyone else.
The service. Our service is intimate and very personalised. I go to every fitting with my fitter. We are there every step of the way with our client. and I believe we put the client's best interests first. I think the way we make them feel when we walk out. I can honestly say that people feel great when they walk out, with themselves as well. We are there to guide them, we go the extra mile to make sure they're okay. We would never let someone go without being truly happy.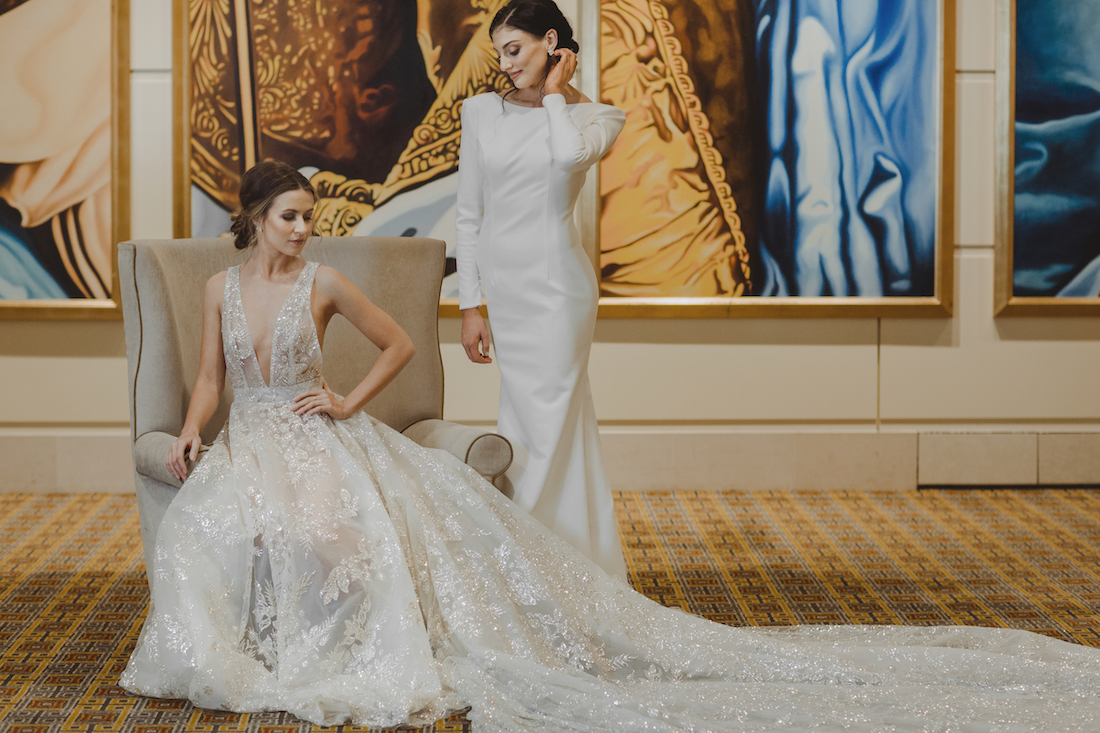 Eve – Melbourne Bridal Fashion Hub
Wedding & Trends Editor
PHOTOGRAPHER – Jessica Rose Photography
LOCATIONS – Crown Melbourne for Crown Weddings